Dawn of the Dragons
was the eighteenth book of the
Lone Wolf
book series. As with all of the later Lone Wolf books numbered thirteen through twenty, the North American editions of these books are abridged, with a reduced number of sections. Dawn of the Dragons is an exquisite book with one of the best storylines in the entire series. As far as I can tell this book does not come with a game map in the Americanized version, although I have seen a color map for the British version.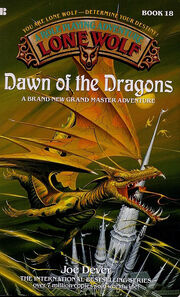 Internal link
Edit
External links
Edit
Ad blocker interference detected!
Wikia is a free-to-use site that makes money from advertising. We have a modified experience for viewers using ad blockers

Wikia is not accessible if you've made further modifications. Remove the custom ad blocker rule(s) and the page will load as expected.