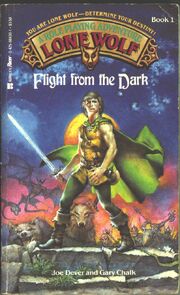 Flight from the Dark was the first book of the award-winning Lone Wolf book series created by Joe Dever. According to sales figures, this first book sold over 100,000 copies in its first month of publication alone.
Lone Wolf books rely on a combination of thought and luck. Certain statistics such as combat skill and endurance attributes are determined randomly before play (reading). The player is then allowed to choose which Kai disciplines or skills he or she possess. This number depends directly on how many books in the series have been completed ("Kai rank"). With each additional book completed, the player chooses one additional Kai discipline. In this first book, the player starts with five disciplines.
At the Kai Monastery is a young initiate, given the name Silent Wolf. On the feastday of Fehmarn, when all the Kai Lords gather at the monastery, Silent Wolf is sent to cut wood from the surrounding forest as a punishment for his inattention in class. While he is gone, a surprise attack is launched from the Darklands at several places across Sommerlund. The Monastery is assaulted and the gathered Kai Lords massacred. Returning from the woods to find himself the only survivor, Silent Wolf renames himself Lone Wolf and sets out for the capital to inform the King of the loss of the Kai.
New version
Edit
Reception
Edit
This book is now thought of as one of the weakest, being the beginning of the series, and the later editions being far more rich and descriptive in narrative.[1]
Gamebook of the Year 1985
References
Edit
Internal Links
Edit
External links
Edit
Ad blocker interference detected!
Wikia is a free-to-use site that makes money from advertising. We have a modified experience for viewers using ad blockers

Wikia is not accessible if you've made further modifications. Remove the custom ad blocker rule(s) and the page will load as expected.