The Captives of Kaag
is the fourteenth book in the
Lone Wolf
book series created by
Joe Dever
. As with most of the later books in the series, this one is illustrated by
Brian Williams
.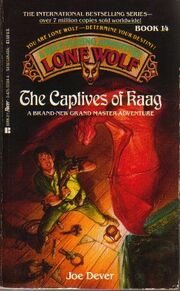 See also: The Captives of Kaag: walkthrough.
Three months after the events of The Plague Lords of Ruel, Lone Wolf learns that his friend, Guildmaster Banedon, has been abducted by a band of Giaks under the command of Nadziranim sorcerers. It is theorized that they are planning to torture him to extract magical techniques which can be united with their own dark sorcery. Lone Wolf and the reader must venture to Kaag, where Banedon is held, and attempt a rescue before he meets his demise, or worse, yields the coveted magical secrets of left-handed magic.
Internal link
Edit
External links
Edit
Ad blocker interference detected!
Wikia is a free-to-use site that makes money from advertising. We have a modified experience for viewers using ad blockers

Wikia is not accessible if you've made further modifications. Remove the custom ad blocker rule(s) and the page will load as expected.