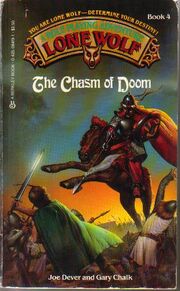 The Chasm of Doom
is the fourth book in the award-winning
Lone Wolf
book series created by
Joe Dever
and illustrated by
Gary Chalk
.
See also The Chasm of Doom: Walkthrough
Since this is the fourth book in the series, players who have completed all three of the previous books will now be at the rank of "Warmarn" or "Journeyman". This potentially gives access to 8 out of the 10 total Kai disciplines.
In this book, the reader (playing the role of Lone Wolf) is charged by the King of Sommerlund to investigate the disappearance of a troop of cavalry. The cavalry, led by a man named Captain D'Val, themselves disappeared under mysterious circumstances while investigating a disruption in the flow of mined resources from the province of Ruanon. Lone Wolf, along with 50 men who accompany him, must uncover the truth surrounding the missing men and conveys.
Internal Links
Edit
External links
Edit