The Darke Crusade
is the fifteenth book in the
Lone Wolf
book series created by
Joe Dever
and now illustrated by
Brian Williams
.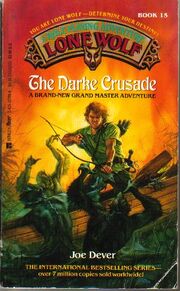 Once more, Lone Wolf's help is sought by a monarch, this time King Sarnac of Lencia. While battling the Drakkarim under control of Magnaarn, the High Warlord of Darke, the Lencians have discovered that Magnaarn seeks an ancient artifact, the Doomstone of Darke. It is feared that he is close to discovering this artifact, and with it, the power to rally the Nadziaranim sorcerers and other Darklord allies against Lencia. Lone Wolf and the reader take up the cause of Lencia to thwart Magnaarn's aims.
Internal link
Edit
External links
Edit
Ad blocker interference detected!
Wikia is a free-to-use site that makes money from advertising. We have a modified experience for viewers using ad blockers

Wikia is not accessible if you've made further modifications. Remove the custom ad blocker rule(s) and the page will load as expected.