The Legacy of Vashna
was the sixteenth book of the
Lone Wolf
book series written by
Joe Dever
and now illustrated by
Brian Williams
.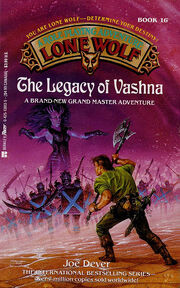 Long ago, Vashna, the greatest of all Darklords, was defeated in battle by King Ulnar of Sommerlund. But the victory was not complete, for while his body was destroyed, his spirit, as well as the spirits of his troops, remain trapped deep within the Maakengorge. Now, Lone Wolf learns of strange sightings in the area near the Maakengorge, suggesting that there may be a plot afoot to resurrect Vashna. Lone Wolf and the reader set out to uncover the nature of the threat, and to see if, indeed, Vashna will return.
Reception
Edit
This book saw the introduction of the demigoddess Alyss into the game book series from the Legends of Lone Wolf novels, where they met much earlier.
Internal link
Edit
External links
Edit
Ad blocker interference detected!
Wikia is a free-to-use site that makes money from advertising. We have a modified experience for viewers using ad blockers

Wikia is not accessible if you've made further modifications. Remove the custom ad blocker rule(s) and the page will load as expected.