The Legacy of Vashna
was the sixteenth book of the
Lone Wolf
book series written by
Joe Dever
and now illustrated by
Brian Williams
.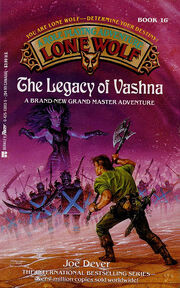 Long ago, Vashna, the greatest of all Darklords, was defeated in battle by King Ulnar of Sommerlund. But the victory was not complete, for while his body was destroyed, his spirit, as well as the spirits of his troops, remain trapped deep within the Maakengorge. Now, Lone Wolf learns of strange sightings in the area near the Maakengorge, suggesting that there may be a plot afoot to resurrect Vashna. Lone Wolf and the reader set out to uncover the nature of the threat, and to see if, indeed, Vashna will return.
Reception
Edit
This book is the first in which the demigoddess Alyss is introduced. In the Legends of Lone Wolf novels, where Lone Wolf meets Alyss much earlier.
At the end of The Chasm of Doom, it is stated that Darklord Vashna cannot be resurrected as long as Lone Wolf possesses the Dagger of Vashna. This is seemingly at odds with the plot of this book. The Dagger of Vashna can be used in this book, but it disappears afterwards and cannot be carried forward into subsequent books.
Internal link
Edit
External links
Edit