The Prisoners of Time
is the eleventh book in the
Lone Wolf
book series created by
Joe Dever
.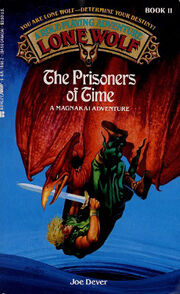 Like several of the previous books in the series, this book again suffers from relative linearity. Furthermore, there are a set of difficult battles near the end of the book which can make completing the book frustrating, particularly for those who are not carrying characters over from previous books (and thus do not have the advantage of additional Magnakai disciplines or ranks).
Although Lone Wolf was successful in rescuing one of the captive Lorestones from Torgar, both he and the remaining two Lorestones are blasted through a portal by Darklord Gnaag. After plummeting through this Shadow Gate, Lone Wolf and the reader find themselves trapped on the Daziarn Plane.
Internal links
Edit
External links
Edit
Ad blocker interference detected!
Wikia is a free-to-use site that makes money from advertising. We have a modified experience for viewers using ad blockers

Wikia is not accessible if you've made further modifications. Remove the custom ad blocker rule(s) and the page will load as expected.